Her Royal Highness Princess Maha Chakri Sirindhorn gracefully declared to establish Phufa shop in Children in Remote Areas Development Fund to be a permanent outlet for local products from occupation promotion projects under HRH Princess Sirindhorn. Over the 14 years, Phufa shop has brought products from more than 150 groups of people in the projects, accounting for 4,000 members. There are a large number of goods from various kinds developed by local wisdom of local people, from beautiful clothes, basket works, handicrafts made from natural materials, beverages, silverwares, to foods. Moreover, Phufa shop also offers products from Royal Chitlada Project and a coffee corner. The most important thing is that the shop is the channel for people to buy products from HRH Princess Sirindhorn's workmanship. HRH Princess Sirindhorn has allocates the net earnings of the shop to promote the quality of life of those who live in the remote areas.
During the year of 2003-2015, Her Royal Highness Princess Maha Chakri Sirindhorn has given the net earnings of Phufa shop to help villagers, children, and youth in the remote areas for 141, 696, 505. 82 THB (one hundred forty-one million six hundred ninety-six thousand five hundred five point eighty- two Thai baht) in total.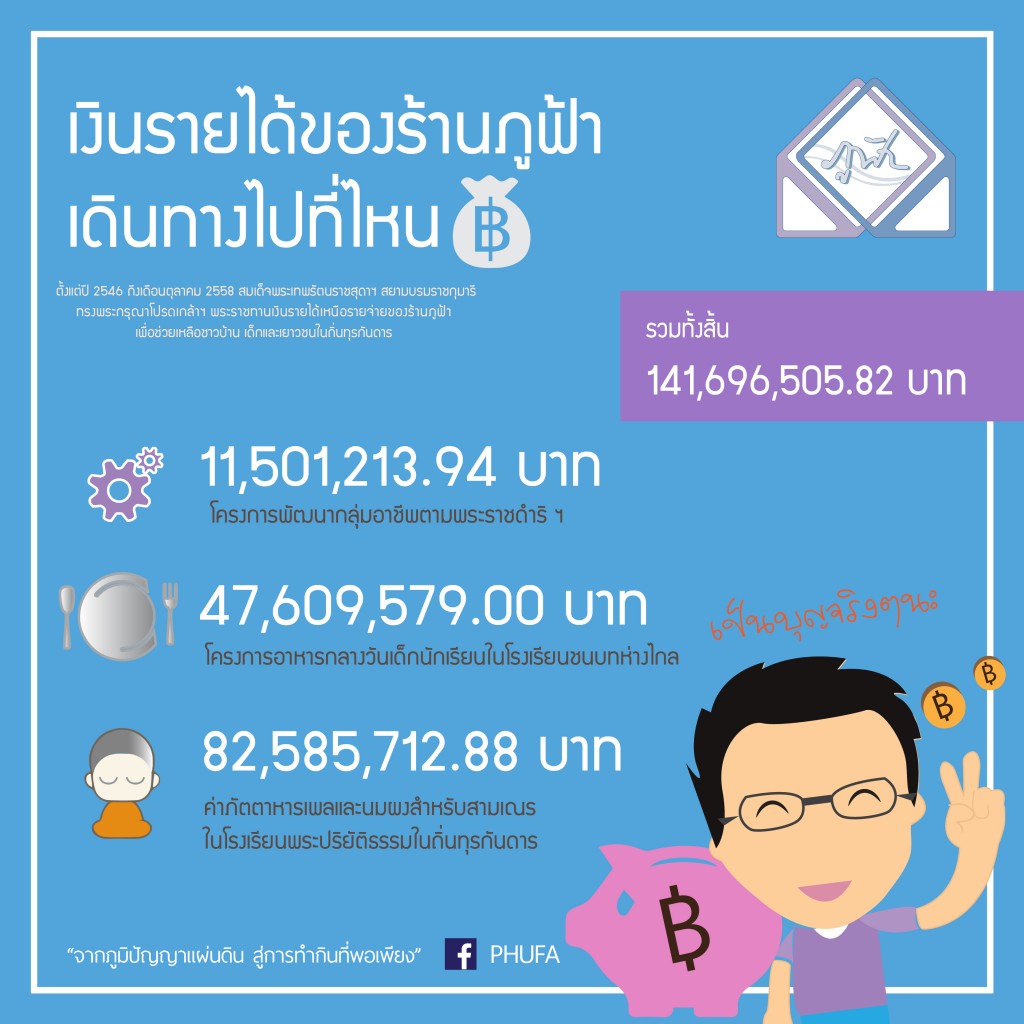 The earnings are allocated for the projects as followings;
Occupation Promotion Project, 11, 501, 213.94 THB (Eleven million five hundred one thousand two hundred thirteen point ninety-four Thai baht)
For villagers in the remote areas, HRH Princess Sirindhorn said that if we want to help children, it is necessary to help the family of those children to have an additional income to maintain the good quality of life. Therefore, Her Royal Highness gracefully directed the office of HRH Princess Sirindhorn's projects to implement the project to promote the occupation of local people in the remote areas by establishing the occupational groups from local wisdom in the areas. The Princess has rendered an assistance in various forms such as giving the occupational training, giving knowledge in founding and managing the groups, establishing the working capital to start the career, supporting about materials and instruments, and building an office required for storing products and operating the work.
Free Lunch for Students Project 47,609,579.00 THB
(Forty-seven million six hundred nine thousand five hundred seventy-nine Thai baht)

Her Royal Highness Princess Maha Chakri Sirindhorn has a vision that education and well-being is the most important basic foundation for children. Thus, she focuses on the nutrition for kids, especially for those who live in the rural areas and suffer from a food shortage by subsidizing money to buy lunch for students in the primary and secondary level and money to buy food for students who live in school in the remote areas.
3. Free Lunch and Powdered Milk for novices in Buddhist Seminary School, 82,585,712.88 THB (two million five thousand hundred eight five thousand seven hundred twelfth point eighty-eight Thai baht.)
Her Royal Highness Princess Maha Chakri Sirindhorn has given the net earnings of Phufa shop to be a budget for lunch and powdered milk for novices in Buddhist Seminary School in remote areas starting from 11 schools in 2004 to 39 schools in 2011.
Source: Phufa shop, 12 December 2015