Pick up your right style and be proud to use it. The collection from HRH Princess Sirindhorn's drawing for the year of the Monkey 2016 is available. Special for you at Phufa shop.
In the year of the Monkey 2016, Her Royal Highness Princess Maha Chakri Sirindhorn gracefully bestowed the drawing of a monkey to Phufa shop in order to make a collection of a cute monkey in different kinds of products. The princess chooses to use a bright blue color which is the color of Friday, the color of Her Majesty Queen Sirikit's birthday to let Thai people celebrate on this auspicious year of Her Majesty Queen Sirikit's 7th cycle birthday anniversary on 12 August 2016. Also, the princess gracefully bestowed the message written "Better Eat a Banana" to bless everyone a happiness and heathy life in the upcoming New Year.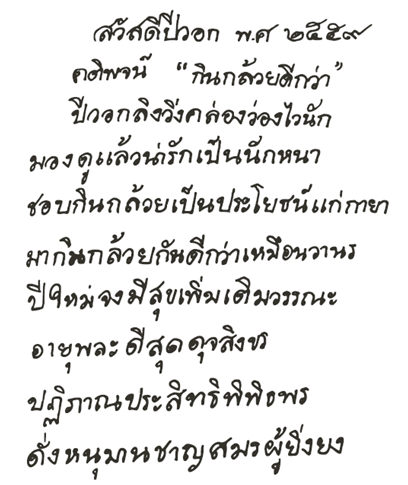 From the bestowed blessing, it can be seen that HRH Princess Sirindhorn has encouraged Thai people to eat more bananas as it is a great fruit. The Princess cites Hanuman, the monkey warrior in Ramakien, as an example of the one that is strong and agile.
This year, Phufa shop will pass the happiness forward by offering special gifts consisting of a polo shirt and a round neck T shirt. The committee of the shop names each shirt by referring to 18 monkey warriors of Rama in the story of Ramakien. There are nine choices of color for a polo shirt which are a white Hanuman, a yellow Surakarn, a dark pink Nilkan, a light pink Komut, a green Pali, an orange Surasen, a blue Phrayavarin, a dark blue Nilpakorn, and a white cloud Waiyabutr. There are 6 color options for a round neck T-shirt which are a white Machanu, a yellow Kumitan, a green Ongkot, a blue Nilaracha, and a black Chaiyampawan. Moreover, there is also a collection of woman's T-shirt with a drawing of bright and lively banana. Apart from a T-shirt and polo-shirt, the shop also offers other kinds of souvenir such as the New Year's gift card, a scarf, a set of water bottles, a towel, a notebook, a scratchpad, a bag made of a Pakakayor tribe cloth, a flash drive, a pen and many more. The new-coming collection of "A Nimble Monkey" to welcome the year of Monkey 2016 will be released from today. Those who are interested can visit Phufa shop, in our 20 branches.
…Phufa shop "From the Local Wisdom to Sufficient Life"