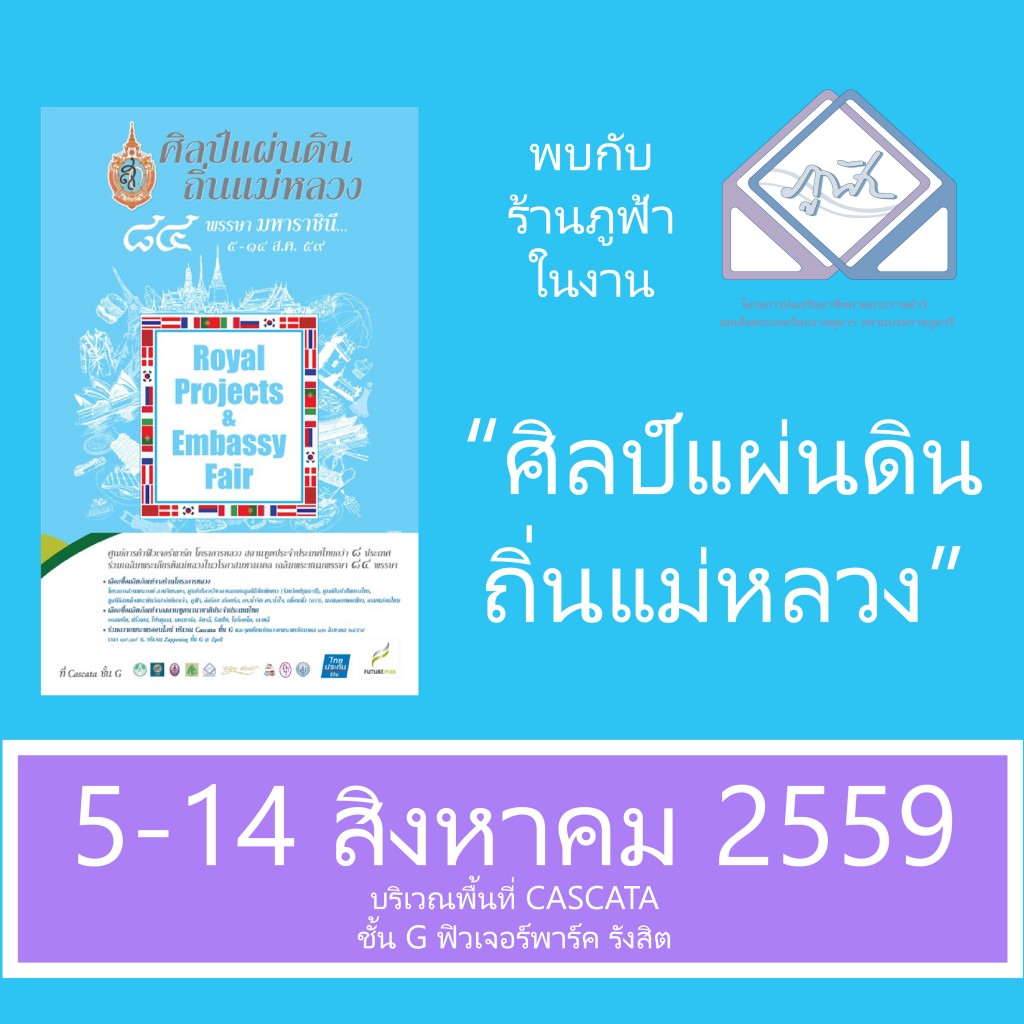 Phufa Shop collects interesting events for the weekend on this August. Don't miss the special promotion from Phufa Shop: Polo Shirt and products from HRH Princess Sirindhorn's painting on sale exclusively on the Royal Projects and Embassy Fair only!
The "Royal Projects and Embassy Fair" is created for Her Majesty the Queen's 84th Birthday Anniversary Celebrations, held at Cascate, ground floor, Future Park Shopping Center.
Enjoy shopping the producst from the Royal Project And and various foundations, including the Royal Chitralada Project shop, Bang Sai Royal Folk Arts And Crafts Center shop, Phufa shop and the Madame Ambassador shops.
During 5-14 August 2559, G Floor, Future Park Rangsit.
http://www.thailandexhibition.com/TradeShow-2016/9730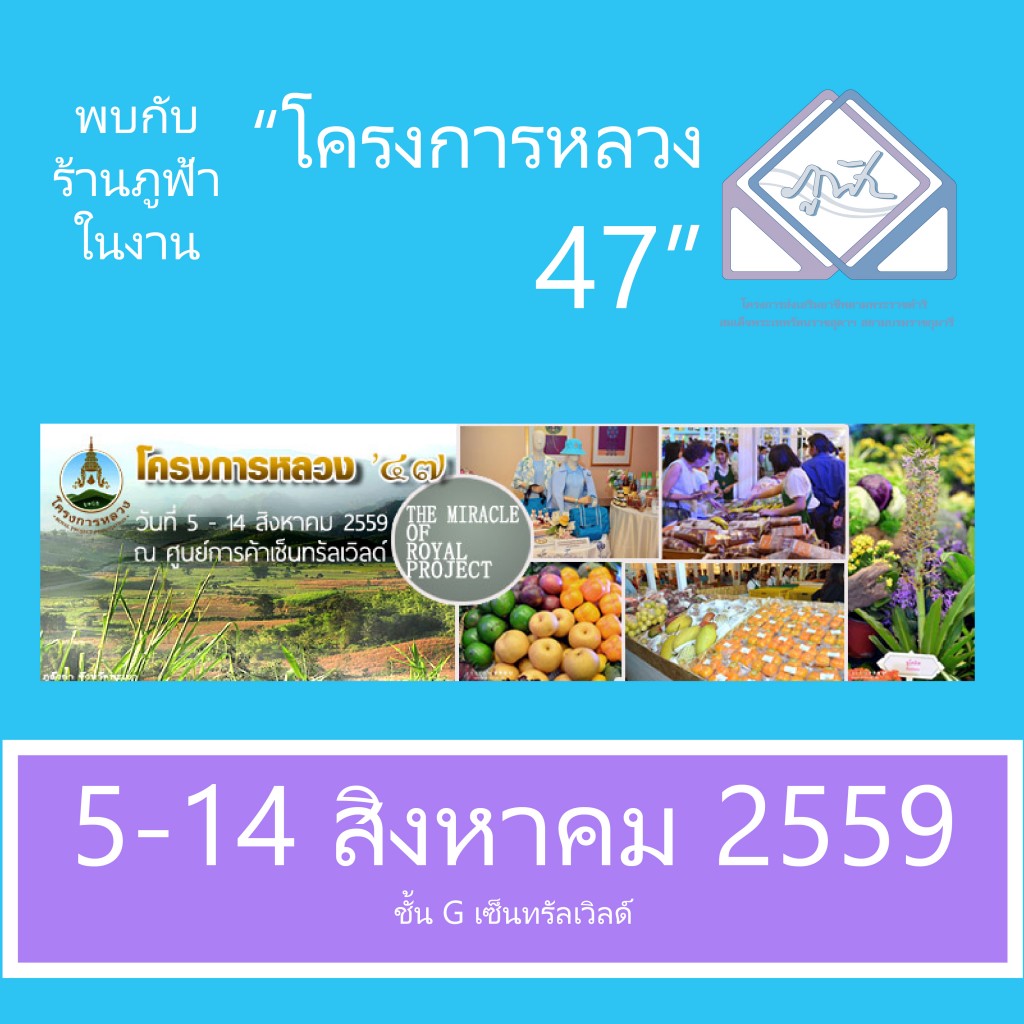 This year the Royal Project 47 fair is created under the concept "The Miracle of Royal Project", which has recommended products such as processed Atsugi nut, purple sweet corn, Dahlia flowers, Calla lily and the products from the Royal Project Shop more than 3,000 products, and comes with the lifestyle of modern supermarket. In this fair, you will also find the exhibition of academic and agricultural development included: rice varieties, highland bean plantation, beautiful Calla Lily, Eucomis and Dahlia flower new variety research and the sculptures "THE MIRACLE OF ROYAL PROJECT" exhibition decored with 367 golden Bodhi leaves, height 17 meters the 70th Anniversary Celebrations of His Majesty's Accession to the Throne and for. Her Majesty the Queen's 84th Birthday Anniversary Celebrations.
The event will be held from Friday 5 to Sunday, August 14, 2015 (10 days) at CentralWorld.
http://www.royalprojectthailand.com/node/2390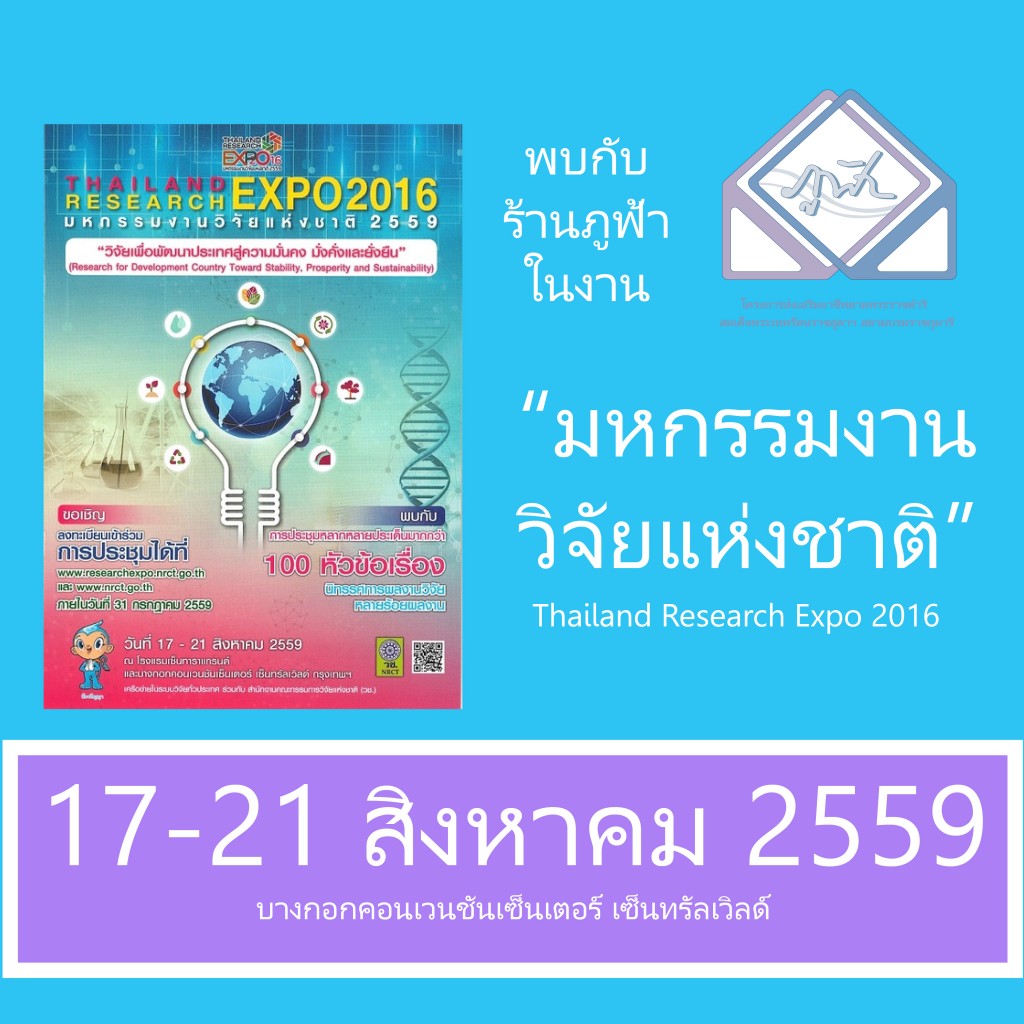 National Research Council of Thailand (NRCT), as a center state agency that encourages researches and studies, gives a precedence to the publication of research broadly toward the nation. Its mechanism was set up to present and broadcast the research come from research network nationwide. As a result, "Thailand Reseach Expo 2016" is held on 17 – 21 August 2016 at Centara Grand Hotel and Bangkok Convention Center, Central World Bangkok, in order to be a stage for other Thailand's institutes in research network system to present their research potential and make them acknowledged among the nationwide and the international stage, which connects between study results, innovations and target group together. And the highlighted session "Thailand Research Symposium" is also created to invite researchers to send their research studies to participate the exhibition. It has objectives as follows:
1. To provide a forum for presenting research studies that are ready for practical implementation.
2. To exchange ideas and show the progress of the research. This will lead to the creation of collaborative networks and bring its benefit to develop the country.
More infomation : download/intro-symposuim2016.pdf
Any further infomation please contact:
Phufa Headoffice : 02-655-6242-3
Phufa Shop: From the wisdom of the land to the sufficient living.