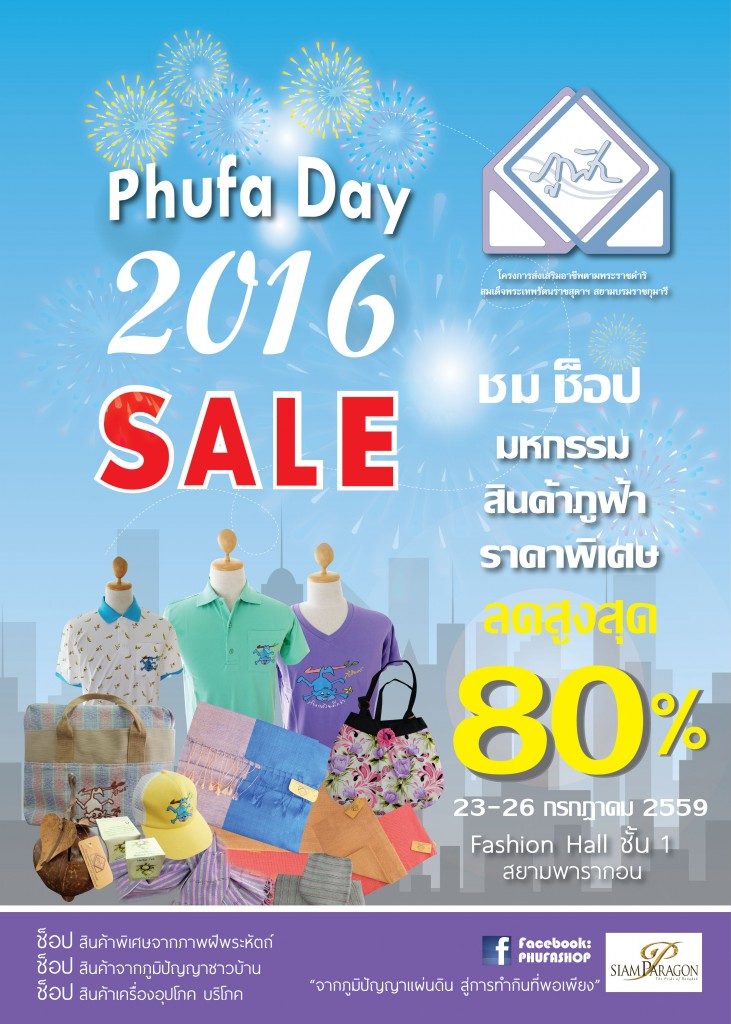 Phufa Shop celebrates the 15th year anniversary with "Phufa Day Festival 2016". Enjoy shopping the special products from HRH Princess Sirindhorn's painting. Folk wisdom products and consumer products are on sale up to 80%. And another workshop "Turn the Pakakayor fabric into a chic bag", this is the one and only Phufa bag exclusively for you. The festival is created in order to return the benefit to the customer, which's encouraged the children and youth in remote area development continuously. This will be held from 23-26 July 2559 at the Fashion Hall, 1st Floor, Siam Paragon.
Phufa Shop is the permanent place to sell products developed by the royal promotion of supplementary occupations project initiative of HRH Princess Maha Chakri Sirindhorn. The product line consists of HRH Princess Sirindhorn's painting products and local folk wisdom products. HRH Princess Sirindhorn has graciously
HRH Princess Maha Chakri Sirindhorn's Chakri Sirindhorn has graciously allocated the revenues and expenses to improve the wilderness area people's quality of life, by extending the occupation, supporting the education and creating the lunch program for children and novices in total more than 140 million baht in the last 14 years.
*** For more details contact by phone. 0-2655-6242-3
And keep in touch via www.facebook.com/phufashop and https://www.phufa.org/