Her Royal Highness Princess Maha Chakri Sirindhorn will preside over the opening ceremony of Chinese New Year event at Yaowarat Road on 8 February, titled "the Year of the Golden Monkey, the Year of Prosperity." HRH Princess's dinner menus are revealed to the public which are "a rice noodle, Spiny lobsters salad, a shark fin soup steamed with ham, and a sable fish steamed with soy sauce." HRH Princess Sirindhorn has kindly given the golden monkey coins to people. 8,500 people will obtain a Magic Monkey amulet. On 2 February, Mr.Wisit Limprana, the President to greet HRH Princess Sirindhorn in the event of Chinese New Year celebration 2016 reveals that HRH Princess Sirindhorn will, this year, preside over the opening ceremony on 8 February at 17.00. This year event, "The Year of the Golden Monkey, The Year of Prosperity" will be held from 8-9 February during 12.00-24.00 starting from Chalermprakiat China gate and along Yaowarat Road to celebrate the Chinese New Year and also to celebrate 40th anniversary of Thai-China diplomatic relation. HRH Princess Sirindhorn has been presiding over the opening ceremony of this event for 17 consecutive years. Mr. Wisit also said that at 16.30, Her Royal Highness Princess Maha Chakri Sirindhorn will pay homage to the golden Buddha image at Wat Trimitr Temple. Then at 17.00 , she will take an electric tram to Chalermprakiat China Gate, Odeon Roundabout, Yaowarat Road to preside over the opening ceremony of Chinese New Year Cerebration 2016. Then, she will see the performance of Thai-Chinese Culture run by the cooperation between Chinese Culture Diplomacy and Tourism Authority of Thailand.
Then the Deputy Minister of the Ministry of Chinese Culture will give the blessing speech on the occasion of Chinese New Year. After that HRH Princess Siridhorn goes to Royal Bangkok at Chinatown Hotel in order to have the dinner. The organizing team prepares the auspicious foods including a rice noodle, referring to a long life; a Spiny lobsters salad, representing the power and charisma; a shark fin soup steamed with ham, meaning the accomplishment in life; and a sable fish steamed with soy sauce, referring to the prosperity since the word "fish" in Chinese is pronounced as "wee" which is a homophone of the word prosperity. Therefore, Chinese people often have fish on Chinese New Year. 
Then, HRH Princess Sirindhorn takes an electric tram to Thian Fah Foundation in order to pay homage to Guan Yin image and also presides over the opening of Hemodialysis Center, Thian Fah Foundation Hospital, which was made possible by the unity in action and spirits of people who donated their money to buy the Hemodialysis machine for the public interest. After that HRH Princess Sirindhorn will visit the booths and exhibitions from Phufa shop, Queen Savang Vadhana Foundation, Sirindhorn Foundation, the Chaipattana Foundation, Doi Tung shop, Mae Fah Luang Foundation, the performance from Samphanthawong District, and the Exhibition on Thai-Chinese Education run by Wat Trimitr Temple. 
Mr. Wisit said that HRH Princess Sirindhorn also takes a tram to Kasikron Thai Bank, Yaowarat branch before going to Wat Bamphen Chin Phrot or Long Hok Yee, the 200th Chinese Temple established since the early Rattanakosin period. Its named was given by King Rama Five. It is located in Yaowarat Soi 8. HRH Princess Sirindhorn will take a look around the temple and pay homage to the auspicious statues in the temple which were made by a special technique using a lacquered ramie cloth, which is an advanced Chinese art. However, the princess will not visit Dragon Temple Kamalawat this year since there is a merit making for the former abbot. In Chinese belief, it is considered inauspicious to enter the place where there is the deceased on the auspicious day.
For gifts that will be given to HRH Princess Sirindhorn, Mr. Wisit said, most shops offer a golden monkey such as the golden monkey figures or the golden monkey pendant. Also, he would like to pass the words to people who want to come greeting the princess that they can come from 16.00 p.m. onwards. The queue will start from Chalermprakiat China Gate, running along Yaowarat Road, around 1 kilometer long to Rachawong Intersection. Those who participate in the ceremony will obtain a Magic Monkey amulet which represents agility to promote the business's success more rapidly.  This amulet is made on the occasion that Her Majesty Queen Sirikit's 7th cycle birthday anniversary on 12 August 2016, limited to only 8,500 amulets. Moreover, people will have a chance to pay homage to Kasitigarbha, a god of prosperity imported from Jinhuashan, one of the four Buddha's mountains in China. Also, they will have a chance to pay respect to the first Magic Monkey statue in Thailand from the Shrine near Wat Trimitr Temple which is invited to place in this event.
Source: http://www.matichon.co.th/news/23831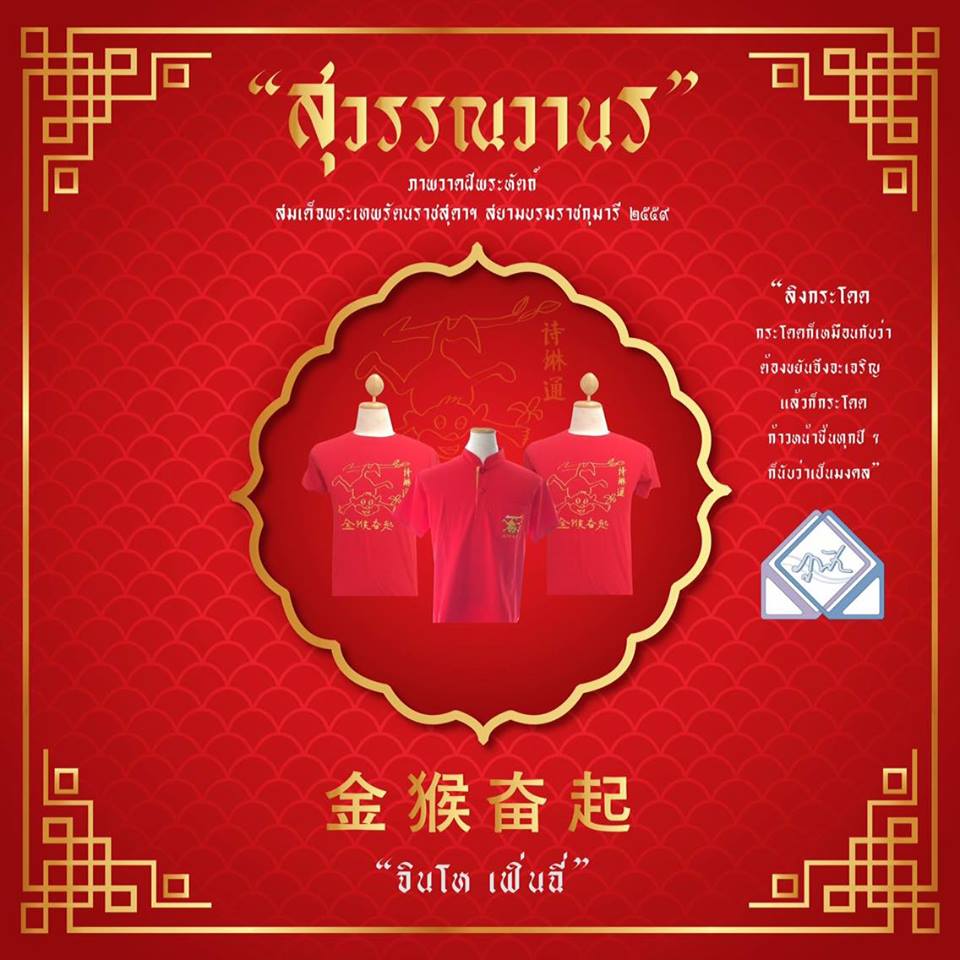 In order to celebrate the golden year of 2016, Phufa has asked for the permission to use HRH Princess Sirindhorn's drawing, "the Golden Monkey," to be in the red polo shirt, Sukreep edition as Sukreep, the powerful and intelligent monkey warrior of Rama, wears a red dress. The polo shirt is embroidered with HRM Princess Sirindhorn's drawing on the left side pocket of the polo shirt. For a round neck T-shirt, the red color will be imprinted with the gold drawing. This collection aims at inspiring the wearer to start working hard and nimbly like a monkey. It is to wish everyone prosperity and success both in work and personal life for the whole year of 2016.
***Meet the special collection from Phufa shop in front of Thian Fah Foundation between 8-9 February 2016 from 10.00-22.00.
…Phufa shop "From the Local Wisdom to Sufficient Life"