Her Royal Highness Princess Maha Chakri Sirindhorn Presided over the Opening Ceremony of Phufa shop, Lotus Bang Yai branch
Her Royal Highness Princess Maha Chakri Sirindhorn
Presided over the Opening Ceremony of Phufa shop, Lotus Bang Yai branch
At Tesco Lotus Plus Mall, Bang Yai, Tambon Bang Khu Wiang, Amphoe Bang Kruai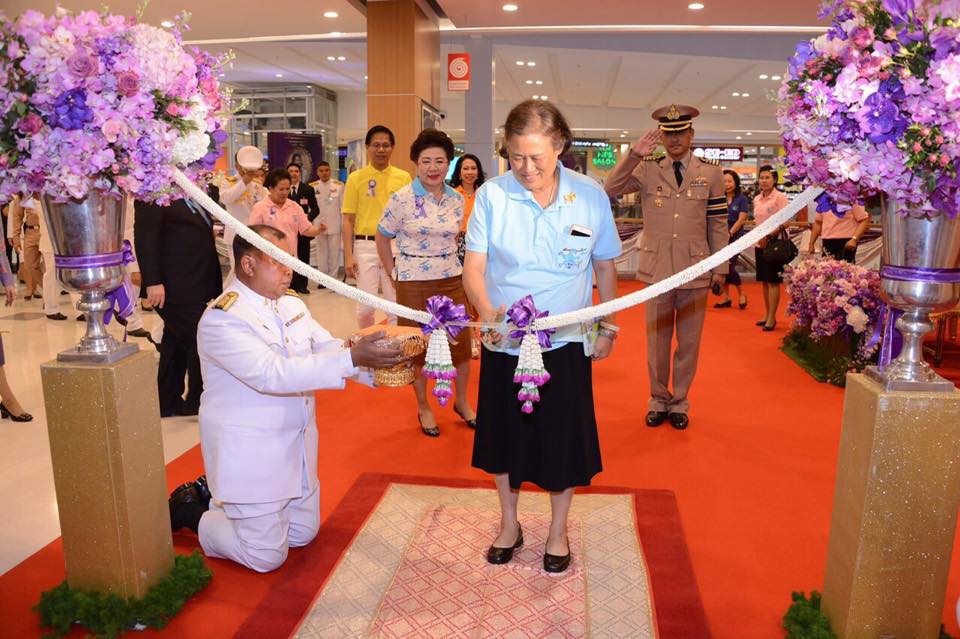 Her Royal Highness Princess Maha Chakri Sirindhorn presided over the opening ceremony of Phufa shop, Lotus Bang Yai Branch. The shop is an outlet for handicraft products from local wisdom of local villagers established by the Children in Remote Areas Development Fund in the occupation promotion project of Her Royal Highness. The operation committee of Phufa shop and the executive committee of Ekka-Chai Distribution System Company Limited greeted HRH Princess Sirindhorn at Tesco Lotus Plus Mall, Bang Yai. 
Phufa shop, Lotus Bang Yai Branch, is the 19th branch of Phufa shop. Ekka-chai Distribution System Company Limited has given 121-square meter area to run the completely-furnished Phufa shop along with giving the infrastructure fee for the operation of Phufa shop under the Children in Remote Areas Development Fund so that people in the remote areas will have the better quality of life by having additional income from selling local products that use local materials; for instance, from beautiful clothes, basket works, handicrafts made from natural materials, beverages, silverwares, to foods. Moreover, Phufa shop also offers products from Royal Chitlada Project and a coffee corner as well as products from the Princess's drawings. Not to mention, the shop also lets people participate in improving children and local villagers' well-being by purchasing local products from Phufa. Over the years, Phufa shop has gained a thriving success and great feedbacks from Thai people.
On the auspicious occasion of Her Majesty Queen Sirikit's 7th cycle birthday anniversary on 12 August 2016, Phufa shop is given the Princess's drawing for the Year of Monkey with the bestowed message saying, "Better Eat a Banana," written with HRH Princess's Sirindhorn's handwriting to bless everyone a happiness and healthy life in the upcoming New Year. From the bestowed blessing, it can be seen that HRH Princess Sirindhorn has encouraged Thai people to eat more bananas as it is a great fruit. The Princess cites Hanuman, the monkey warrior in Ramakien, as an example of the one that is strong and agile.
Phufa shop asks for permission to use the Princess's drawing collection, "Better Eat a Banana," to make special products consisting of various goods. The polo shirts come with nine colors which are a white Hanuman, a yellow Surakarn, a dark pink Nilkan, a light pink Komut, a green Pali, an orange Surasen, a blue Phrayavarin, a dark blue Nilpakorn, and a white cloud Waiyabutr. There are 6 color options for a round neck T-shirt which are a white Machanu, a yellow Kumitan, a green Ongkot, a blue Nilaracha, and a black Chaiyampawan. Moreover, there are a polo shirts, specially designed to fit women's figure, a cardigan, and a jacket. Apart from a T-shirt and polo-shirt, the shops also offers other kinds of souvenir such as the New Year's gift card, a notebook, a scratchpad, a pen, a bag, a towel, a cup, a coffee mug and many more. It is such an honor that we got a help from three leading brands which are PAINKILLER, Issue, and asava to give us advice on how to use colors for products. Also, in the event there was a Khon performance, the Dance of Monkey. Those who are interested can visit and shop at any 19 branches of Phufa shop.